【Touch Sound】: Stroke his back, he will sing dozens of natural bird songs, you will be surprised to see how good the narration of the parrot is.
【Learning Mode】: Star of Baby electronic pet parrot toy will repeat in his own voice, no matter what language you speak or singing or what content you say in 30 seconds, in addition, all sounds around you will be recorded.
【Answer Function】: Our smart parrot toy will answer the questions what you asked, he can be used as an interactive learning tool for education. Parents and teachers can use the parrot to promote the development of children's language, emotional expressions and imagination.
【Safty materials】: Baby always love to touch and feel the toys with their mouth and small hands. Our smart parrot toy is made of non-toxic material.
【Ultra Endurance】 : Star of Baby talking parrot toy can stay for 7 days continuously in sleeping mode or 6 hours for repeating and training modes usage.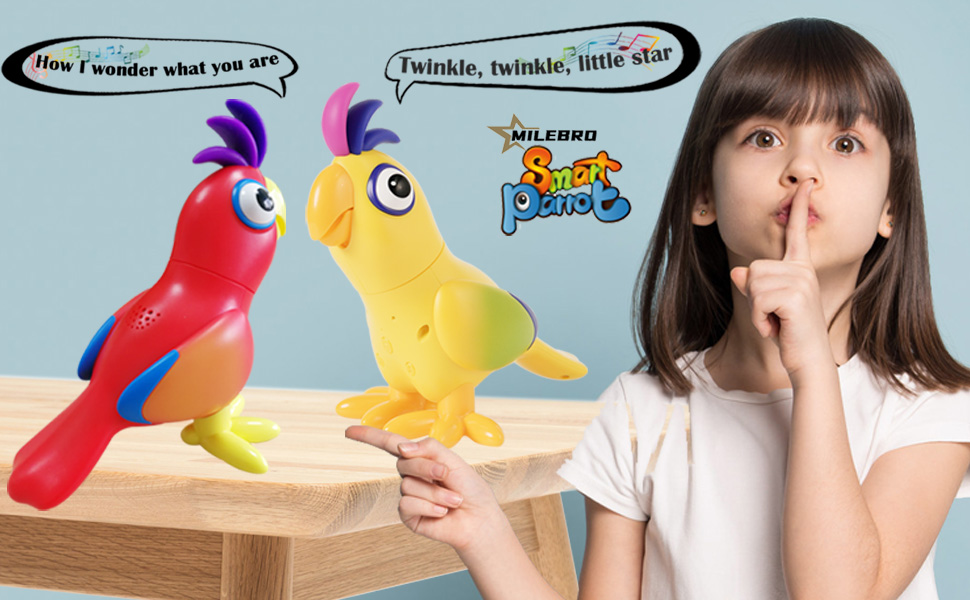 This smart parrot toy can be a good companion for your children.
The Star of Baby welcomes you to the magical store. A well-behaved smart parrot toy is no longer a dream, with the help of the Star of Baby, it can be your everyday reality.
This Talking Smart Parrot is a great toy and is worth the time it takes for your child's playtime. This Magical Talking Parrot is trained according to relevant commands are able to demonstrate its social interaction skills, this will help increase the fun of children's life games, stimulate children's subjective initiative, and become parrot trainers spontaneously. Teaching, tricks to the parrot is something that the child derives great pleasure from, and a sense of achievement stimulates children's language talent.
Experience the magic and joy of having a Star of Baby Parrot join right into your life! An adorable, happy, and smart parrot made by Star of Baby for your child. The best option to gift on your kid's birthday.
The role of smart parrots in our lives is far beyond our imagination. It can replace the expression of what you want to say: for example, the father who did something wrong apologizes to the mother; incarnates as a shop assistant to greet customers, and helps shy boys to confess to girls; The star assistant in the live broadcast room; the sharer of children's secrets...
What role do smart parrots play in your life?
Looking forward to sharing this with more people...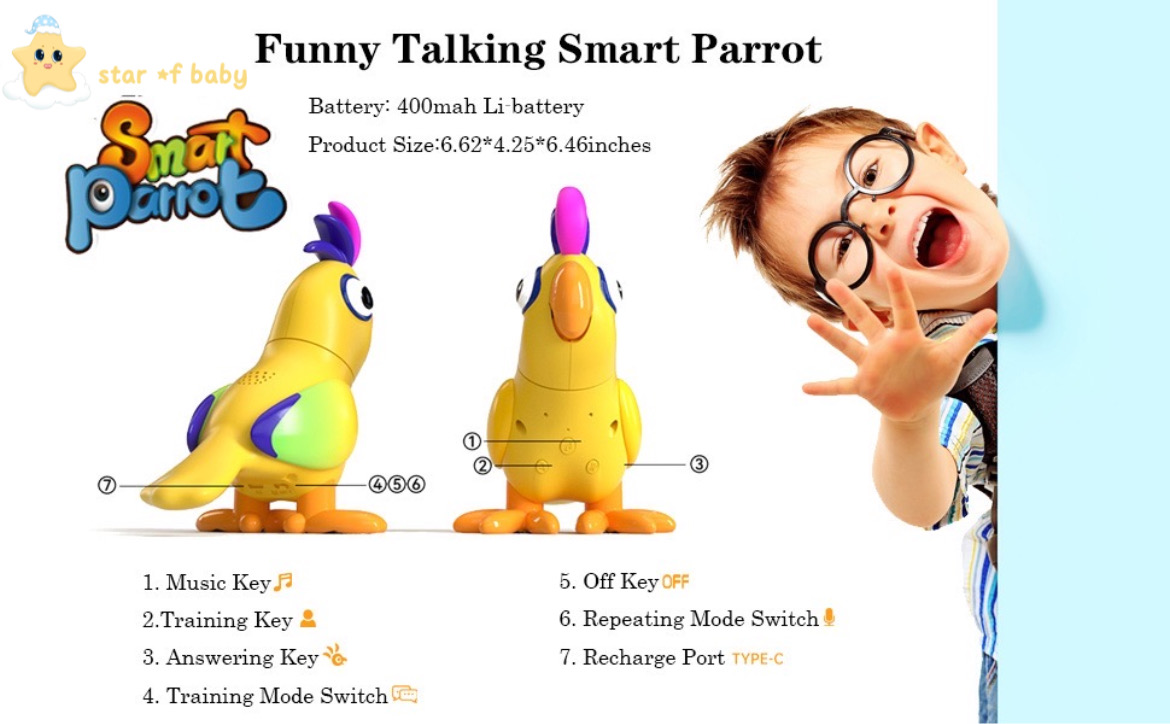 How to train the parrot?
Step 1. Teach it the reacting short sentence or song. (no more than two seconds)
Switch the On/OFF to Training Mode. Start to teach the bird. Long press the Training Key, After you hear the two beeps, tell the bird what you want it to understand. When finished, release your fingers.
Step 2. Tell the bird how to respond when it hears your reacting sentence.
After Step 1, Long Press the Answering Key, After you hear the two beeps, tell the bird how you want it to respond after hearing your reacting sentence or song, when finished, release your fingers.
Step 3. Play with the Bird
After Step 1 and Step 2, you can play with the bird, and there is no need to press any key at this time. When the bird hears your reacting sentence or song, it will respond immediately as you trained.
[Note]
1. Reacting sentences should be as short as two seconds, the bird can not recognize long sentence.
2. The reacting sentence should be coherent, with no pause in the middle.
3. The Response sentence or song can last for 30 seconds
4. Simultaneously long-press the training key and the answering keyboard to automatically clear all conversations.
5.The system memory can store 25 pairs of Reacting Sentence and Response Sentences. When you are recording a new group of dialogues, the parrot shakes its head and accompanies the music for 3 seconds, indicating that 25 dialogues have been recorded. When the memory is full, the new one will be accepted, and the earliest one will be deleted.
5. In the charging state, the trick-or-treating parrot will be online for 24 hours, and will occasionally randomly say what you have recorded before, adding a little surprise to life, just like a real parrot; in a non-charging state, We also feature battery saving mode which will put the smart robot parrot in sleep mode if not active after 3 minutes to preserve energy.

Why Choice Star of Baby Strongly Talking Smart Parrot Toy?
Star of Baby smart parrt just like the real parrot but way smarter and better.The trick-or-treating parrot allows children to actively output language expressions, rather than passively receiving them like other interactive toys. Let children become the role of teachers, stimulate children's creativity and expression skills.

The intelligent robot parrot toy can be combined with the actual scenes of life, set up small scripts, and improve children's creativity and expression ability, Parents and children increase the interaction between and increase the fun of life.

FRIENDLY NOTES:
The machine contains a lithium battery. When charging, children must operate under the care of their parents to prevent accidents.
The charger shall regularly check whether the wires, plugs, shells and other components are damaged. In case of any damage, the charger shall be stopped and replaced with a new charger.
This product is not supplied with a charger. Only a mobile phone charger with an output voltage of 5V can be used for charging.
This product includes one machine, one manual and one type-c charging line.
This is a magical smart parrot that can be trained by your self as a real parrot.
Training Mode

Whether you sing or speak any language, by teaching a parrot tricks you gain interaction with the parrot with you, more than repetition;

Repeating Mode:

The parrot repeats everything you say. Good for early childhood education and bring unexpected pleasure.

Series-Inspired Sounds

If you gently stroke its back, the smart parrot can make dozens of natural bird songs, and the smart parrot will respond to the child's interaction at any time.

What about two parrots?

You can teach them to tell a story or joke, or even sing a song with you. The bird can recognize what you say or what you sing after your training. lmagine your surprise when the two birds perform a talk show! Because they can understand each other by your advanced training.
Parent-Child Interaction

When kids talk with a smart parrot, Children can communicate with it and learn to socialize, play with him, and increase the parent-child interaction experience. While kids talk with this toy, they are also learning to socialize with people around them.

Get a Pet Smart Parrot

While playing with smart parrots, children will stay away from television and video games, meeting curiosity and inspiring creativity. Bring a lot of fun to your baby/The perfect partner to help develop Kids' language skills/Parents and children increase the interaction between Kids to prevent depression It is choosing most popular gift for your kids.

Favorite Toy For Kids

It will be an excellent interactive holiday gift for the children. A great birthday gift, holiday present, Christmas gift, or anniversary gift for boys or girls.